Emerging Technologies in construction
by Thomas Hainsworth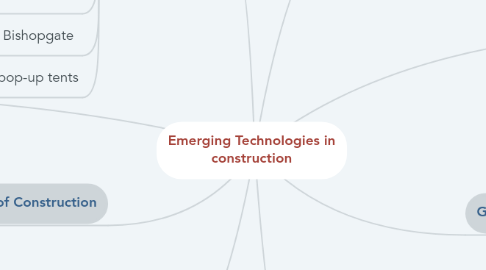 1. Modern Methods of Construction
1.1. Timber Frame Construction
1.2. Compartmentation
1.3. Offsite Construction
2. 3D Printing
2.1. Rapid Prototyping
2.2. Accuracy of components
2.3. Scale modelling
3. Geophysics
3.1. Cost Benefit Evaluation for construction industry use
3.2. Is it worthwhile?
3.3. Seismicity, landslide and flooding hazards determined
4. Surveying
4.1. UAV Drones
4.2. Hazardous zone access
4.3. Health and safety assessment
4.4. Fast, accurate and easy surveying
4.5. Does this method elevate jobs? Is it therefore beneficial to the economy
5. Virtual Reality
5.1. Augmented Reality: Placing virtual objects into a real world
5.2. Health and safety signage projection
5.3. Design information and specification
5.4. How does Virtual reality support BIM?
5.5. Cost benefit analysis- Is Virtual Reality worthwhile?
5.6. Case Study: London 22 Bishopgate
5.7. 360 degree pop-up tents
6. Robotics
6.1. Autonomous vehicles
6.2. Automatic Brick laying machinary
6.3. Exoskeletons: Use of robotics to overcome peoples natural weaknesses
6.4. Improvements on speed and quality
7. BIM
7.1. Construction simulation beforehand
7.2. Clash detection benefits
7.3. Long term time saving aspects
7.4. Sustainability of buildings
8. Modern/ Smart materials
8.1. Self Healing concrete
8.2. Bio-concrete healed with water
8.3. Topmix Permeable concrete reducing surface water runoff