Mind Map by Jasmine G.
by Jasmine Gooch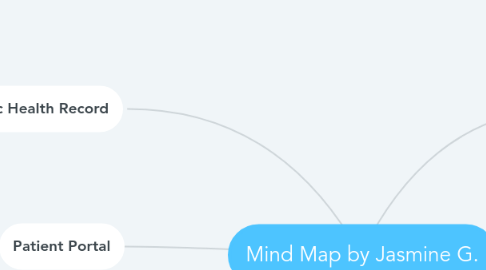 1. Practice Management
1.1. Manages different administrative and clinical aspects the practice.
1.1.1. This software automates the majority of the task that fit under the "health information management" branch.
2. Electronic Medical Records
2.1. A very prominent system used in facilities.
2.1.1. EMRs replaced paper records by making digital medical charts and patient records.
3. Electronic Health Record
3.1. Electronic health records allow you to check a patient's history.
3.1.1. Records show diagnoses, treatments, medications, allergies, X-rays, and test results.
4. Patient Portal
4.1. Helps healthcare professionals and patients view patient history, treatments and medications.
4.1.1. Portal allows access to records or additional notes you leave for them, even when they aren't in your office.
5. Scheduling
5.1. Software that allows you to direct patients to log into their account and schedule appointments when it's convenient on their time.
6. Medical Billing
6.1. System automates patient billing.
6.1.1. Automates filing insurance claims.
7. Eprescribing
7.1. Expedites the process of prescribing medicines.
7.1.1. Prescription is sent electronically, then filled and waiting for the patient when they get to the pharmacy.
8. Incomplete Medical Processing
8.1. Includes the assembly and analysis of discharged patient records.
8.1.1. Record is retrieved and reports are assembled according to a hospital- and medical staff approved order of assembly.