CATALYST - SPEEDING UP REACTION
by Hakim Ahmad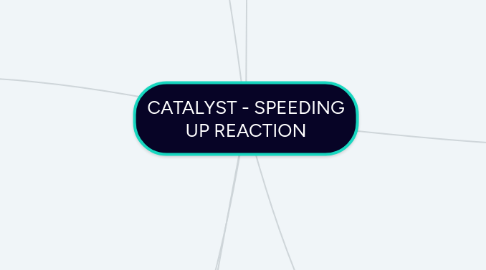 1. CATALYTIC PROCESS
1.1. HOMOGENEOUS CATALYTIC
1.1.1. A catalytic process in which a catalyst is in solution with at least one of the reactants.
1.2. HETEROGENEOUS CATALYTIC
1.2.1. A process involves more than one phase; usually the catalyst is a solid
1.2.2. The reactants and products are in liquid/ gaseous form.
2. APPLICATION
2.1. CATALYTIC CONVERTERS
2.1.1. most common
2.1.2. reduce emission of harmful gas
2.2. ENVIRONMENT
2.2.1. catalysis effect on environment by increasing efficiency of industrial process but also play direct role in environment
3. REQUIREMENT FOR A GOOD CATALYST
3.1. The catalyst should have a large surface area.
3.2. The catalyst should have a variable coordination number, this defines the number of nearest neighbours an atom or molecule can bind to. Having a variable number allows potential catalyst to link to extra molecules at the surface when reactants are adsorbed and to release them again when the reaction is complete.
4. CATALYST DEACTIVATION
4.1. Poisoning
4.1.1. This mechanism occurs when the poisoning molecules become irreversibly chemisorbed to active sites, thereby reducing the number of sites available for the main reaction.
4.1.2. The poisoning molecules, P may be a reactant and/ or a product in the main reaction, or it may be an impurity in the feed stream.
4.2. Aging phenomenon
4.2.1. Also known as sintering which referred to the loss of catalytic activity due to the loss of active surface area resulting from the prolonged exposure to high gas – phase temperature.
4.2.2. The active surface area may be lost either by crystal agglomeration and growth of the materials/ metals deposited on the support or by narrowing / closing of the pores inside the catalyst pellet.
4.3. Fouling or coking
4.3.1. This mechanism is common to reactions involving hydrocarbons.
4.3.2. It result from a carbonaceous (coke) material being deposited on the surface of a catalyst.
5. CATALYST REGENARATION
5.1. The process of renewing a catalyst or making it reusable after it has accumulated reaction residues such as coke. Examples of regeneration processes include passing steam over the catalyst bed or burning off the carbon residue.
6. CATALYST VS CATALYSIS
6.1. CATALYST
6.1.1. substance that affects the rate of a reaction
6.1.2. changes a reaction rate by promoting a different molecular path
6.2. CATALYSIS
6.2.1. The occurrence, study and use of catalyst and catalytic processes.
6.2.2. ways of increasing product yield and selectivity from chemical reactions
7. TYPES OF CATALYST
7.1. Porous
7.1.1. A Catalyst that has a large area resulting from porous
7.2. Unsupported
7.2.1. A catalyst consist of minute particles of an active material dispersed over a less active substance.
7.3. Supported
7.3.1. A catalyst consist of minute particles of an active material dispersed over a less active substance.
7.4. Molecular sieves
7.4.1. A catalyst that admit molecules but prevent large ones from entering.
7.5. Monolithic
7.5.1. A catalyst that can be either porous or on- porous
7.5.2. The catalyst are normally encountered in process where pressure drop & heat removal are major consideration.