CHAPTER 6: CATALYST
by adri syafi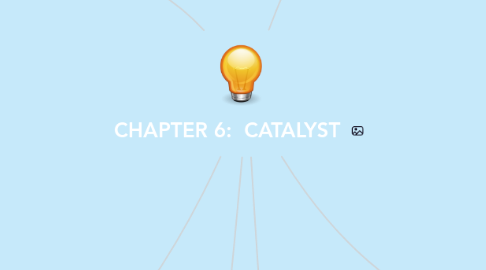 1. CATALYST VS CATALYSIS
1.1. CATALYSIS is the process of increasing the rate of a chemical reaction by adding a substance known as a catalyst:
1.2. CATALYST is A catalyst is the term for a chemical compound or substance that may speed up or slow down a chemical reaction without itself being changed or consumed at any time during the reaction
2. TYPE OR CLASSIFICATION OF CATALYST
2.1. CLASSIFICATION BASED ON IT PHYSICAL STATE
2.1.1. Gas
2.1.2. Liquid
2.1.3. Solid
2.2. CLASSIFICATION BASED ON THE SUBSTANCES FRO WHICH A CATALYST IS MADE
2.2.1. Organic
2.2.2. Inorganic
2.3. CLASSIFICATION BASED ON WAY CATALYST WORK
2.3.1. Homogenenous
2.3.2. Heterogeneous
2.4. CLASSIFICATION BASED ON CATALYST ACTION
2.4.1. Acid base catalyst
2.4.2. Enzymatic
2.4.3. Photocatalysis
2.4.4. Electro-catalysis
3. APPLICATION OF CATALYST
3.1. ENVIRONMENT
3.1.1. Catalyst effect on environment by increasing the efficiency of industrial process but catalyst also play direct role in environment
3.2. CATALYTIC CONVERTERS
3.2.1. One of most common of catalyst is catalyst converters
3.2.2. Catalytic converter are found in automobile
3.2.3. Their role is to reduce to emission of harmful gas that are result of the combustion of fuel in vehicle engines.
3.3. OZONE GAS DEPLETION
3.3.1. There is catalytic role of chlorine free radicals in the breakdown of ozone. These radicals are formed by the action of ultraviolet radiation in chlorofluorocarbon(CFF)
4. REQUIREMENT FOR A GOOD CATALYST
4.1. The catalyst should have a large surface area
4.2. The catalyst should have a variable coordination number, this defines the number of nearest neighbours an atom or molecule can bind to. Having a variable number allows potential catalyst to link to extra molecules at the surface when reactants are adsorbed and to release them again when the reaction is complete.
4.3. The catalyst should be able to vary its stereochemistry, this defines the angles between bonds and so affects the shapes of molecules that can be created.
5. CATALYST DEACTIVATION
5.1. POISONING
5.1.1. TYPE: CHEMICAL- Strong chemisorption of species on catalytic sites, thereby blocking sites for catalytic reaction.
5.2. FOULING
5.2.1. TYPE: MECHANICAL OR CHEMICAL- Physical deposition of species fluid phase onto the catalytic surface and in catalyst pores.
5.3. SINTERING
5.3.1. TYPE: THERMAL- Thermally induced loss of catalytic surface area, support area and active phase support reaction
6. CATALYST REGENERATION
6.1. Catalyst regeneration is a process that renews catalysts, making them reusable after the initial usage. Regenerated catalysts are used in several processes such as reforming, which is a refinery process that converts low octane products into high octane products (reformates).
6.2. Regenerated catalyst can be used for both steam and naphtha reforming. Other refining processes that make use of regenerated catalysts include hydrogenation, alkylation, hydro cracking, hydro-desulfurization and hydro-treatment.