Louis Armstrong was an important early innovator of early New Orleans jazz.
by Ngan Phan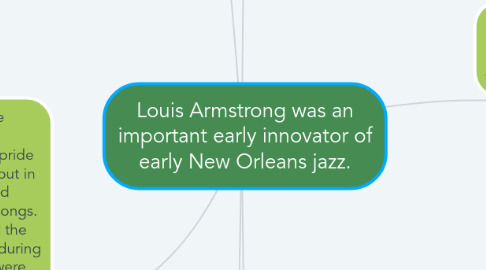 1. Louis Armstrong presents a number of diverse themes and broad subjects that are integrated into the lyrics and melody of his songs.
1.1. Armstrong adopted "When It's Sleepy Time Down South" (1931) as his theme song and the lyrics are filled with racial controversies and stereotypes that makes references to the discrimination blacks were being subjected to in the Great Depression.
1.1.1. "Homesick tired All alone in a big city / Why should ev'rybody pity me, / Nighttime's falling, folks are a singin', / they dance till break of day / Dear Old Southland with it's dreamy songs / Takes me back there where I belong / How I'd love to be in mammy's arms / When It's Sleepy Time Down South"
1.2. "What a Wonderful World" was a final song that expressed deep authentic and raw emotions, where Armstrong leaves his final words to his "beloved" hometown and depicts his struggles of dealing with a lifetime of racism, which is summed up in the song.
1.3. Louis Armstrong was a adamant supporter of individualism and released the song, "Hello Dolly," as one of his major hits to introduce the audience to himself and his unique fusion of banjo fanfare and inspiring vocals, including the starring of the Beatles.
1.3.1. "300 songs for 300 Years"
1.3.2. John Swenson and Brett Milano
2. Louis Armstrong's ambitions and passion fueled his desire to exploit racial stereotypes as the central focus in his music.
2.1. Louis Armstrong published numerous films, the most popular being Louis Armstrong: An American Genius (1983) to showcase how an African American artist can surpass apartheid, attracting mass public attention for his performance.
2.1.1. "I'll Be Glad When You're Dead": Louis Armstrong's Smack Down with White Authority and his First Films, 1930-1932
2.1.2. Boyd Raeburn, Southern Quarterly
2.2. During his musical career, Louis Armstrong was the first African American "cross-over" artist to effectively employ the range of media available to a black man during the 1930s, including recordings, sheet music, radio, film, and books.
2.3. "I'll Be Glad When You're Dead, You Rascal You" was an indigenous song written by Louis Armstrong that explored white oppression and racial domination in the African American community.
3. Louis Armstrong introduces a realistic aspect to his songs, illustrating vivid and mental images of the Early New Orleans time period.
3.1. Louis Armstrong appealed to a larger number of audiences through overlapping genres that depicted realistic scenes in New Orleans Jazz. For example, "Potato Head Blues" illustrates Gravier and Rampart streets in New Orleans during World War I.
3.2. In addition to being the first jazz soloist to create a unique vocal style, Armstrong's writings offered important insight on the early days of jazz from 1910 to 1917, introducing musicians and describing scenery as he saw it.
3.2.1. "Here is a short rundown of my idea of the choice musicians in my young days in New Orleans… Henry Kimball Bass Violin. Manuel Perez Cornet – Manuel and Joe King Oliver played together in the Onward Brass Band, really something to listen to when they played for Parades and Funerals."
3.3. With his songs that inspired hundreds to listen to his performances, Armstrong published biographies that provided detailed accounts of his experiences in New Orleans overlapped with his time living in Chicago, which led up to his successful musical career.
3.3.1. "Opinionated and Unpredictable"
3.3.2. John Swenson
4. Louis Armstrong was musically talented in various areas of expertise and displayed sheer acts of being a natural performer on stage.
4.1. Not only was Armstrong renowned for his outstanding instrumental performances, his technical mastery and improvisational excellence was able to bring his audience towards the brink of relaxation in addition to his charming persona. For example, "Skokiaan" was one of the more popular songs during his career.
4.2. Louis Armstrong is known for his distinct playing and singing, including his commentary and storytelling abilities during the rise of New Orleans Jazz. While he suffered from criticism, his ability to play trumpet express a certain mood and hold multiple occupations, such as bandleader, soloist, and comedian.
4.2.1. "The Armstrong Legacy"
4.2.2. Boyd Raeburn, Southern Quarterly
4.3. The reason why Louis Armstrong was a big hit during the era of Early New Orleans Jazz was because his "dazzling techniques" on trumpet embodied his passion and musical spirit. He was emotionally empowering through his charisma and gift to charm his audience into enjoying his performance.
4.3.1. He merges musical excellence with personal charisma, particularly a subversive smile that seems to say to audience members, 'We're the ones who really know what's going on. We get it."
5. Louis Armstrong is a sincere musician and passionate entertainer that represents pride in his race and is willing to put in efforts to end apartheid and discrimination through his songs. Louis Armstrong influenced the rising of black entertainers during the a period where blacks were restricted by limitations.
5.1. Louis Armstrong influenced the rising of black entertainers during the a period where blacks were restricted by limitations. He made sure that the social structure of the twentieth century did not restrict African Americans to live out their musical careers and he served as the sole evidence of that fact.
5.1.1. "...to help people understand that the charismatic performer and masterful musician on stage was a deeper and more complex human being than one might expect. He was well aware of his stature and knew that his place in American culture was a complicated one."
5.2. Louis Armstrong defined jazz as a bridge between races that becomes a matter of acceptance and enjoyment between different groups. Armstrong's message through rhythm and melody used jazz, as well as his hard childhood, to inspire hundreds of listeners to understand his perspective.
5.2.1. "Jazz: The Music of freedom"
5.2.2. Freedom Review
5.3. Not only was Louis Armstrong devoted in promoting a central message in his songs, he was obsessed with documenting his life, opinions, and interactions with others in order to present autobiographical material to express his outlook on sensitive topics that related back to his childhood and origins during the Early New Orleans Jazz era.
5.3.1. "Music Is My Life: Louis Armstrong, Autobiography, and American Jazz"
5.3.2. Daniel Stein
6. Louis Armstrong's revolutionary trumpet playing allowed him to fuse his creativity and rhythmic sense into his improvisational solos and singing.
6.1. Louis Armstrong was an excellent, even outstanding, trumpet player that established the first idea of a jazz solo and improvisations through his rhythmic sense of playing. He was gifted with the ability to compose set themes and solos, and excelled at playing traditional New Orleans jazz.
6.1.1. "In an article from The Record Changer in 1950, Armstrong gave a definition of great music that could well have been written by Lester Bangs:"
6.1.2. Opinionated and Unpredictable
6.2. Through his understanding of the universality of New Orleans jazz, Armstrong had a "relaxed, seductive" vocal style that invented a new approach to scat singing and the addition of a new musical instrument, he was renowned for his orchestration and wordplay in his songs.
6.2.1. "Armstrong Unearthed"
6.2.2. John Swenson
6.3. Louis Armstrong had a deep understanding of moral themes and was considered one of the top jazz critics because of his "ingenious" sampling and looping of vocal and trumpet figures, which revealed Armstrong's ideal music that influenced contemporary music.