FOUNDER OF SOCIAL MEDIA
by Russel Benedicto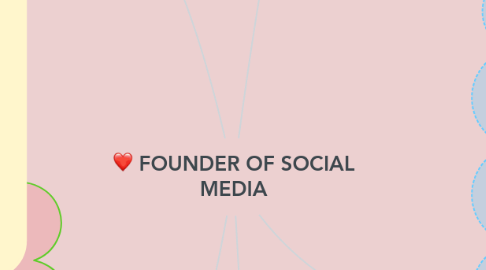 1. SNAPCHAT
1.1. Founders: Evan Spiegel, Bobby Murphy, Reggie Brown
1.2. Snapchat is a multimedia messaging app used globally, created by Evan Spiegel, Bobby Murphy, and Reggie Brown,[6] former students at Stanford University, and developed by Snap Inc., originally Snapchat Inc. One of the principal features of Snapchat is that pictures and messages are usually only available for a short time before they become inaccessible to users. The app has evolved from originally focusing on person-to-person photo sharing to presently featuring users' "Stories" of 24 hours of chronological content, along with "Discover", letting brands show ad-supported short-form content. Snapchat has become notable for representing a new, mobile-first direction for social media, and places significant emphasis on users interacting with virtual stickers and augmented reality objects. As of February 2018, Snapchat has 187 million daily active users
2. PINTEREST
2.1. Founder: Ben Silbermann
2.2. Pinterest is a web and mobile application company that operates a software system designed to discover information on the World Wide Web, mainly using images and on a smaller scale, GIFs and videos. The site was founded by Ben Silbermann, Paul Sciarra and Evan Sharp. Pinterest has reached 200 million monthly active users as of September 2017.[5] Pinterest CEO Ben Silbermann summarized the company as a "catalogue of ideas" that inspires users to "go out and do that thing", rather than as an image-based social network.[6]
3. TWITTER
3.1. Twitter is an American online news and social networking service on which users post and interact with messages known as "tweets". Tweets were originally restricted to 140 characters, but on November 7, 2017, this limit was doubled for all languages except Japanese, Korean, and Chinese.Registered users can post tweets, but those who are unregistered can only read them. Users access Twitter through its website interface, through Short Message Service (SMS) or mobile-device application software ("app").Twitter, Inc. is based in San Francisco, California, and has more than 25 offices around the world. Twitter was created in March 2006 by Jack Dorsey, Noah Glass, Biz Stone, and Evan Williams and launched in July of that year. The service rapidly gained worldwide popularity. In 2012, more than 100 million users posted 340 million tweets a day,and the service handled an average of 1.6 billion search queries per day. In 2013, it was one of the ten most-visited websites and has been described as "the SMS of the Internet".As of 2016, Twitter had more than 319 million monthly active users.Since 2015, and continuing into 2016 and future years, Twitter has also been the home of debates, and news covering Politics of the United States, especially during the 2016 U.S. presidential election, Brett Kavanaugh Supreme Court Nomination, and 2018 United States Midterms, with Twitter proved to be the largest source of breaking news on the day of the 2016 election, with 40 million election-related tweets sent by 10 p.m. (Eastern Time) that day
3.2. Founders: Jack Dorsey, Noah Glass, Biz Stone, Evan Williams
4. FACEBOOK
4.1. FOUNDER:Mark Elliot Zuckerberg (born May 14, 1984) is an American technology entrepreneur and philanthropist. He is known for co-founding and leading Facebook as its chairman and chief executive officer
4.2. Facebook, Inc. is an American online social media and social networking service company based in Menlo Park, California. Its website was launched on February 4, 2004, by Mark Zuckerberg, along with fellow Harvard College students and roommates Eduardo Saverin, Andrew McCollum, Dustin Moskovitz and Chris Hughes. The founders initially limited the website's membership to Harvard students. Later they expanded it to higher education institutions in the Boston area, the Ivy League schools, and Stanford University. Facebook gradually added support for students at various other universities, and eventually to high school students. Since 2006, anyone who claims to be at least 13 years old has been allowed to become a registered user of Facebook, though variations exist in this requirement, depending on local laws. The name comes from the face book directories often given to American university students. Facebook held its initial public offering (IPO) in February 2012, valuing the company at $104 billion, the largest valuation to date for a newly listed public company. It began selling stock to the public three months later. Facebook makes most of its revenue from advertisements that appear onscreen.
5. INSTAGRAM
5.1. FOUNDER:Kevin York Systrom (born December 30, 1983)is an American entrepreneur and programmer, best known as the co‑founder of Instagram along with Mike Krieger.
5.2. Instagram (also known as IG) is a photo and video-sharing social networking service owned by Facebook, Inc. It was created by Kevin Systrom and Mike Krieger, and launched in October 2010 exclusively on iOS. A version for Android devices was released a year and 6 months later, in April 2012, followed by a feature-limited website interface in November 2012, and apps for Windows 10 Mobile and Windows 10 in April 2016 and October 2016 respectively. The app allows users to upload photos and videos to the service, which can be edited with various filters, and organized with tags and location information. An account's posts can be shared publicly or with pre-approved followers. Users can browse other users' content by tags and locations, and view trending content. Users can "like" photos, and follow other users to add their content to a feed. The service was originally distinguished by only allowing content to be framed in a square (1:1) aspect ratio, but these restrictions were eased in 2015. The service also added messaging features, the ability to include multiple images or videos in a single post, as well as "Stories"—similar to its main competitor Snapchat—which allows users to post photos and videos to a sequential feed, with each post accessible by others for 24 hours each. After its launch in 2010, Instagram rapidly gained popularity, with one million registered users in two months, 10 million in a year, and ultimately 800 million as of September 2017. In April 2012, Facebook acquired the service for approximately US$1 billion in cash and stock. As of October 2015, over 40 billion photos have been uploaded to the service. Although praised for its influence, Instagram has been the subject of criticism, most notably for policy and interface changes, allegations of censorship, and illegal or improper content uploaded by users.