Integrated Site (IS) Workflow and requirements
by roberto jimenez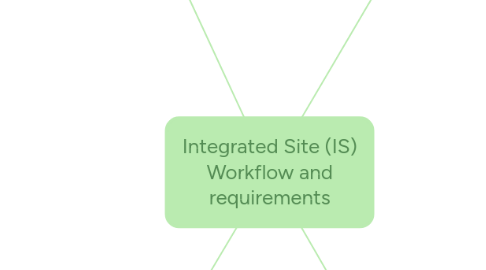 1. Other Notes
1.1. Our processes revolve around making sure the Investigator is informed and involved at every step of the way. We have clear workflows and guidelines for every scenario and help guide and support the Principal investigators in overseeing the Clinical Trial and integration you into our systemm
1.2. Many functions (particularly management, financial, etc) will preformed remotely, due to the limited space
2. Integrated Functions with practice admin staff
2.1. Subject Visit Confirmation
2.1.1. as needed (if possible)
2.2. Subject Visit Check in
2.2.1. Check subject into our system and alert CRC
2.2.1.1. this will be automated soon (check in via iPad)
2.3. Scheduling
2.3.1. Subject Scheduling for MDs & PhDs
2.3.1.1. work with CRC and RA to fit research subjects in, maybe leave some dedicated time 2 times a week for screens, and then small windows (10 mins) in between patients for Visit or AE or IP Review with CRC.
2.3.2. Scheduling MD time for meetings, trainings, etc.
2.3.3. Schedule Coordination
2.3.3.1. Holidays, etc.
2.4. Mail/ Packages receipt, distribution and shipping assistantce
2.4.1. Includes IP (Investigational Product)
2.4.2. Lab samples
2.4.2.1. We prepare and call Fed Ex
2.5. General Reception
2.5.1. Clients (Monitors, etc.)
2.5.2. Vendors, etc
2.5.2.1. dry ice, calibration, medical waste, etc
2.5.2.2. dry ice, calibration, etc
2.5.3. HR Interviews
3. HealthRoots Footprint
3.1. 1 office full time
3.1.1. CRC Office
3.1.2. Regulatory Office
3.1.3. Fax/ Scanner/phone
3.2. 1 drug room (small office size)
3.2.1. we must be a able to fit a -20 drug freezer and shelves for ambient drug
3.2.2. locked and access control
3.2.3. drug Medical containers are huge sometimes and there is no way to get around having a dedicated drug room anymore
3.2.4. 1 exam room full time
3.2.4.1. also RA office
3.2.4.2. ECG Transmission Jack
3.2.4.3. Fax/ Scanner
3.2.5. 1 room for a rater (part time), if your existing rates cannot see the research patients, due to scheduling issues.
3.3. 1 office/ conference room for monitoring visits and study meetings with clients (~1-2 days a month per active study)
3.4. notes
3.4.1. all storage, charts, regulatory materials, clinical and office supplies, etc will have to be integrated into the 2 offices.
4. Investigator Functions overview
4.1. Subject Visit
4.1.1. INV Procedures
4.1.1.1. Screen V
4.1.1.1.1. Psych Evaluation / History
4.1.1.1.2. Informed Consent Form Review
4.1.1.1.3. Longer Scales
4.1.1.1.4. Visit Review (Post Visit)
4.1.1.2. Randomization V
4.1.1.2.1. Ready To Randomize Review
4.1.1.3. General VIsits
4.1.1.3.1. Investigational Product
4.1.1.3.2. Adverse Events / SAEs
4.1.1.3.3. Post Visit Review with CRC and Signatures, as needed
4.1.1.3.4. Consult with Medical Monitor, as needced
4.1.1.3.5. Discontinuation Procedures (as needed)
4.1.1.4. FU Visits
4.1.1.4.1. patient wrap up reports
4.1.1.4.2. end of treatment / early withdrawal / titration of Investigational product, as needed
4.1.2. Rater - Rating Scales
4.2. Signatures / Chart Review
4.2.1. Daily Signatures
4.2.2. Visit Follow Up
4.2.2.1. Labs/ ECGs, etc
4.2.2.2. AEs
4.3. Internal QA issue resolution
4.4. Safety Events
4.4.1. SAEs / AEs
4.4.2. Dosing Issues
4.5. Monitoring VIsits/ Audits
4.5.1. prep (as needed)
4.6. Training
4.7. General
4.7.1. Regulatory Document Review and Signature (as needed)