Cognitivism is based on the reception, organization, storage and retrieval of information. Quality teaching uses this learning theory to make topics and lessons meaningful to the student (EDU 570, 2017). This outline shows Cognitivism in use with the Common Core State Standards for English Language Arts, Reading Standards: Foundational Skills, Print Concepts in Kindergarten.
by AnneMarie Brewer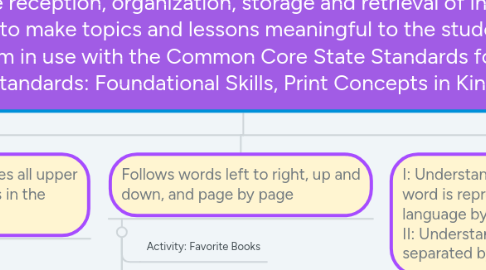 1. Recognizes and names all upper and lowercase letters in the alphabet
1.1. Activity: Letter Match
1.2. Goal: To match upper and lowercase letters
1.3. Objective: Students will match uppercase letters with their lowercase counterpart.
1.4. I will introduce the upper and lower case letters to students using the letters in each students' name. This will add meaning the letters and promote beginning reading skills as they recognize their names in print.
2. Follows words left to right, up and down, and page by page
2.1. Activity: Favorite Books
2.2. Goal: To follow print in correct sequence of left to right, up and down, and page by page
2.3. Objective: Students will understand and follow the rules of print while reading with a teacher, in small groups and independently
2.4. I will stock the classroom library with books that have themes that the students are interested in. Topics will include sports, cars, and cooking. Reading teams will be an option for those that learn well in social situations.
3. I: Understands that the spoken word is represented in written language by sequences of letters II: Understands that words are separated by spaces in print
3.1. Activity: Riddle Time
3.2. Goal: To trace finger along words as they are read
3.3. Objective: Students will understand that each spoken word has a written counterpart
3.4. Materials: 201 Thematic Riddle Poems to Build Literacy Book, page 53 "At School" What can you find in the classroom? Riddles, Chart Paper, Markers
3.5. Children are naturally silly and like to laugh. Engaging children by doing a fun activity keeps them invested.