SCHOOL EVALUATION OR AUTHORIZATION
by Loyola bpromo2022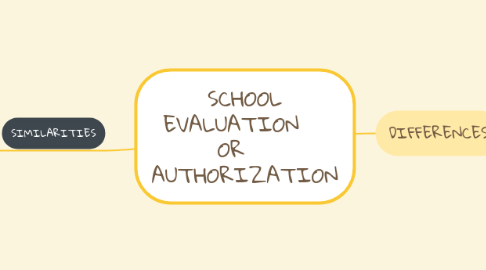 1. SIMILARITIES
1.1. sCHOOL APROVED FOR A VISIT!
1.2. TEACHERS AND COORDINATORS MUST TAKE WORKSHOPS
1.3. tHERIS AN INFORM AFTER THE VISIT WITH RECOMMENDATIONS
1.4. sOME DOCUMENTS MUST BE FILLED IN BY THE STAFF INVOLVED.
1.5. IT DOESNT SEEK TO APPRAISE OR ASSES INDIVIDUAL TECHERS OR STUDENTS
1.6. BEFORE THE VISIT TAKES PLACES THERE IS A SELF ANLYSIS PERIOD
1.7. THE REPORT AFTER VISIT INCLUDES COMMENDATIONS RECOMMENDATIONS AND MATTERS TO BE ADRESSED
1.8. THE VISITS TAKES 2 OR 3 DAYS
1.9. DURING VISIT THERE ARE SCHOOL AND IB VISITORS RESPONSIBILITIES
2. DIFFERENCES
2.1. IN EVALUATION THE VISIT TAKES PLACE EVERY 5 YEARS
2.2. STAFF TAKES SPECIFIC WORKSHOPS FOR THE PERIOD UNDER REVIEW DURING EVALUATION
2.3. PROFESSIONAL DEVELOPMENT WORKSHOPS FOR STAFF DURING HE CANDIDACY PHASE
2.4. AUTHORIZATION HAPPENS ONCE? AND THE INTENTION IS TO BE ONE OF THE IB WORLD SCHOOLS
2.5. IN THE EVALUATIONTHE OBJECTIVE IS TO PAUSE AND REFLECT HONESTLY ON ACHIEVEMENTS AND NEW INITIATIVES IN ORDER TO ENHACE THE IMPLEMENTATION OF THE IB PROGRAMME.
2.6. IN EVALUATION THERE IS A SELF STUDY PERIOD
2.7. IN AUTHORIZATION THERE IS AN ANALYSIS OF FEASIBILITY CARACTERISTICS OF THE SCHOOL BEFORE SUBMMITING DOCUMENTS