Coursera as an Online Course Provider
by Rula Sabban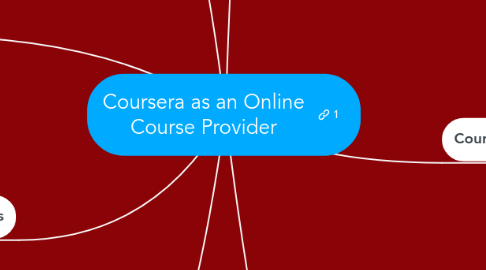 1. Types of Learning
1.1. Mobile Learning
1.2. Distance Learning
1.3. Online Learnign
1.4. Flexible Learning
1.5. Open Learning
2. Communities
2.1. Partners
2.1.1. Universities and businesses
2.2. Mentors
2.2.1. Answer learner questions in the discussion forums, post new threads to spark in-depth discussion and pass feedback to Coursera staff.
2.3. Translator
2.3.1. Participate as much or little as possible in providing translations for learning materials
2.4. Beta Tester
2.4.1. Review course materials before launch and provide feedback to instructors
2.5. Developers
2.5.1. Which are basically promoters of the website and the courses
3. Learning Offers
3.1. Learning Paths
3.1.1. According to the goal of your learning, there are five learning paths to choose from.
3.2. Degrees
3.2.1. MA
3.2.2. BS
3.3. Professional Certificates
3.4. Specializations
3.5. Individual Courses
4. Course
4.1. Assessment & Evaluation
4.1.1. Formative Evaluation
4.1.1.1. Peer-review
4.1.2. Summative Evaluation
4.1.2.1. Grades
4.2. Content
4.2.1. Content Formats
4.2.1.1. Podcasts
4.2.1.2. Interviews
4.2.1.3. Simulations
4.2.1.4. Screen Casts
4.2.1.5. Informal End-of-Week Recorded Discussion
4.2.2. Content Sections
4.2.2.1. Syllabus
4.2.2.2. Welcome and overview
4.2.2.3. Learning Objectives
4.2.2.4. Weekly Content
4.2.2.5. Practice Activities and Assignments
4.2.2.6. Resources
4.3. Communication
4.3.1. Discussion Forums
4.3.2. Messages
5. Target Audiences
5.1. Individual Learners
5.2. For Educators
5.3. For Business
5.4. For Government
5.5. For Refugees
6. Support
6.1. Code of Conduct
6.2. Honor Code
6.3. Technical Help
6.4. FAQ
7. blog
7.1. business blog
7.2. Degrees blog
7.3. Tech blog
7.4. Educators blog
7.5. New products blog
7.6. Stories blog