Critical Review of 'What are the pros and cons of social networking sites?'
by Eeling Yeoh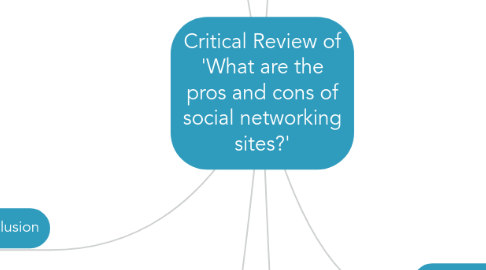 1. References
1.1. Topping, A. 2012. 'Social Networking Sites Fuelling Stalking, Report Warns'. Retrieved April 24th, 2018, from https://www.theguardian.com/technology/2012/feb/01/social-media-smartphones-stalking
1.2. Chugh, R. 2017. 'Facebook is fighting social media identity theft in India, but it's a global problem'. Retrieved April 24th, 2018, from https://techxplore.com/news/2017-08-facebook-social-media-identity-theft.html
1.3. Simon, M. 2008. 'Freed student uses Twitter to demand translator's release'. Retrieved April 24th, 2018, from http://edition.cnn.com/2008/TECH/04/25/twitter.buck/
1.4. Simon, M. 2008. 'Twitter saga ends in jailed translator going free'. Retrieved April 24th, 2018, from http://edition.cnn.com/2008/TECH/04/25/twitter.buck/
1.5. Gaille, B. 2017. '29 Social Networking Addiction Statistics'. Retrieved April 24th, 2018, from https://brandongaille.com/28-social-networking-addiction-statistics/
1.6. Daly, J. 2012. 'How Is Facebook Affecting College Students' Grades'. Retrieved April 24th, 2018, from https://edtechmagazine.com/higher/article/2012/07/how-facebook-affecting-college-students-grades-infographic
2. Introductory paragraph
2.1. The article entitled 'What are the pros and cons of social networking sites?' by Strickland,J focuses on the advantages and disadvantages of social networking sites.
2.2. Pros:
2.2.1. Social networking sites let users make connections with other people.
2.2.2. Users can use social networking sites to network professionally.
2.2.3. Social networking sites make the organisation of an event and invitation of friends more effortless.
2.2.4. Social networking sites can be utilised to promote an artiste's or actor's work.
2.2.5. Social networking sites also act as application platforms.
2.2.6. Social networking may even get a person out of jail.
2.3. Cons:
2.3.1. Online social networking makes identity theft easier.
2.3.2. Scammers use social networking sites to trick people into downloading malicious software.
2.3.3. Social networking can be both overwhelming and addictive at the same time.
3. Body paragraph 1
3.1. I agree that social networking makes identity theft easier.
3.2. Social networking sites provide a platform for us to disclose our personal information such as birth date, gender, contact number, home address and occupation.
3.3. Users are given the freedom to decide on how much personal detail to share.
3.4. Although users can choose not to share any information, most of them are still willing to do so in order to fulfill the purpose of using social networking sites.
3.5. This is because users can only be tracked down by old friends through revealing their own information.
3.6. The action of sharing too much information poses a threat to users as the personal information may be exploitated by unscrupulous people to commit crimes such as cyberstalking and cyberextortion.
3.7. Besides, someone may masquerade under one's identity by creating another account and by using the information of that person.
3.8. The perpetrator can use that account created to spread rumours and scandals that might ruin the reputation of the victim.
3.9. They can even gain access to the victim's financial information through the personal information obtained.
3.10. 68% of social media users share their birth date publicly, 63% share their high school name, 18% share their phone number, 12% share a pet's name; these pieces of information are frequently used for account security verification and can be used for identity theft. (Topping, 2012)
3.11. In Australia, there are 9% of cases which the personal information of victims was stolen from social media. Identity fraud represents 53% of all fraud in the United Kingdom, with 86% of identity fraud cases enabled via the internet.(Chugh, 2017)
4. Body paragraph 2
4.1. I agree that social networking can be both overwhelming and addictive at the same time.
4.2. Social networking allows the users to join various social network sites and to add unlimited people as friends.
4.3. Users may receive notification and view the updates of their friends constantly; consequently, they might spend too much time on social networking.
4.4. Users will get addicted and may abandon their more important tasks in their daily life.
4.5. For example, students tend to spend more time on social media sites such as Instagram, Facebook, Twitter, Snapchat, Whatsapp and Wechat rather than doing revision as the latter is obviously more monotonous.
4.6. Too many updates also make it difficult for users to focus on the information that they are interested in.
4.7. For instance, important messages might be overlooked by users as there are too many notifications at any point in time.
4.8. As estimated 350 million social media users suffer from Facebook addiction syndrome. This has become more prominent in users between the ages of 16 and 25. An estimated 60% of addicts are females with 68% of users confessing to checking their social media feeds 10 times a day.(Gaille, 2017)
4.9. On average, a student visits social networking sites 6 times per day and stays for 24 minutes each visit. The amount of time the average student spends on Facebook is 106 minutes per day. College students' grades dropped 0.12 points for every 93 minutes above the average 106 minutes spent on Facebook per day.( Daly, 2012)
5. Body paragraph 3
5.1. I disagree that social networking may even get a person out of jail.
5.2. James Karl Buck was arrested in Egypt because of his act of covering anti-government protest rally.
5.3. He was freed from jail not because of the post on Twitter but the post which helped him to get contact to secure his release as he was an American.
5.4. His translator, Mohammed Maree did not get out of jail because of the Twitter post and was continued to be detained until Buck contacted the Egyptian Consulate in San Fransisco and posted a petition for Maree's release.
5.5. In this case, James Karl Buck and Mohammed Maree were not guilty of the charges, they were just presumably falsely accused.
5.6. The social media, Twitter, was used as a platform to seek help from other people, not as a way to escape from legal obligation.
5.7. That Twitter post enabled Buck to disclose his current condition, the urgent message is proof of the value of Twitter, Stone said. Buck's entry set off a chain of events that led to his college hiring a lawyer on his behalf. On his way to the police station, Buck sent a message to his friends by using the micro-blogging site Twitter. It took the signatures and support of thousands of activists to get his translator out.(Simon, 2008)
6. Conclusion
6.1. I agree that social networking makes identity theft easier. Besides, I also agree that social networking can be both overwhelming and addictive at the same time. On the other hand, I disagree that social networking may even get a person out of jail.
6.2. In a nutshell, there are many boons and banes of using the social networking sites.
6.3. If social networking sites are used in moderation, users can absolutely reap boundless benefits from these social networking sites.
6.4. On the contrary, the users may be led down a menacing avenue if they lack self-control and fail to use the social networking sites judiciously.
6.5. Social networking is a double-edged sword. Therefore, users should be clear of their intentions of using social networking sites and utilise them wisely and mindfully.