Software Zen - M1A03 - Renascimento
by Rafael Nunes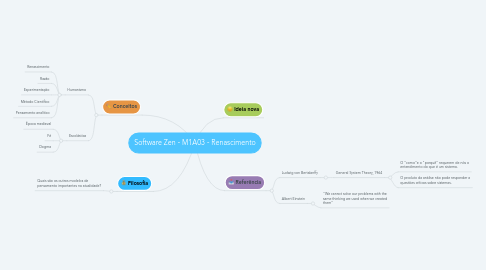 1. Conceitos
1.1. Humanismo
1.1.1. Renascimento
1.1.2. Razão
1.1.3. Experimentação
1.1.4. Método Científico
1.1.5. Pensamento analítico
1.2. Escolástica
1.2.1. Época medieval
1.2.2. Fé
1.2.3. Dogma
2. Filosofia
2.1. Quais são os outros modelos de pensamento importantes na atualidade?
3. Ideia nova
4. Referência
4.1. Ludwig von Bertalanffy
4.1.1. General System Theory, 1964
4.1.1.1. O "como"e o "porquê" requerem de nós o entendimento do que é um sistema.
4.1.1.2. O produto da análise não pode responder a questões críticas sobre sistemas.
4.2. Albert Einstein
4.2.1. "We cannot solve our problems with the same thinking we used when we created them"