TECHNO-PEDAGOGICAL DESIGN
by elisa treppaoli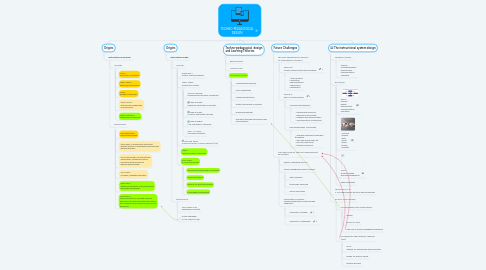 1. Techno-pedagogical design and Learning Theories
1.1. BEHAVIORISM
1.2. COGNITIVISM
1.3. CONSTRUCTIVISM
1.3.1. contextualized learning
1.3.2. social negotiation
1.3.3. multiple perspectives
1.3.4. student ownership of learning
1.3.5. building knowledge
1.3.6. evaluation through autoanalysis and metacognition
2. Origins
2.1. Instructional Technology
2.1.1. HISTORY
2.1.1.1. 1920s: instruction movement
2.1.1.2. 1930s-1940s: audiovisual instruction
2.1.1.3. 1950s: growth of television
2.1.1.4. 1960s-1970s: Instructional Technology as a PROCESS
2.1.1.5. 1980s-mid1990s: technological advances
2.1.2. DEFINITIONS
2.1.2.1. Early definitions: instructional media
2.1.2.2. 1963-Dept. of Audiovisual Instruction "design and use of messages controlling the learning process"
2.1.2.3. 1970-Commission on Instructional Technology: "systematic way of carrying out the process of learning and teaching"
2.1.2.4. 1977-AECT: "complex, integrated process"
2.1.2.5. 1994-AECT: "theory and practice of processes and resources for learning"
2.1.2.6. 2008-AECT: "ethical practice of facilitate learning and improving and improving perfomance by managing technological processes and resources"
3. Origins
3.1. Instructional Design
3.1.1. HISTORY
3.1.1.1. World War II: military training programs
3.1.1.2. 1950s-1960s: training as a system
3.1.1.2.1. 1954-B.F.Skinner: programmed instruction movement
3.1.1.2.2. 1962-R.Mager: behavioral objectives movement
3.1.1.2.3. 1963-R.Glaser: criterion-referenced measure
3.1.1.2.4. 1965-R.Gagné: "The conditions of learning"
3.1.1.2.5. 1967- M. Scrive: formative evaluation
3.1.1.3. from mid 1960s: INSTRUCTIONAL SYSTEM DESIGN (ISD)
3.1.1.4. 1980s: computer-based instruction
3.1.1.5. from 1990s: ICT and new trends
3.1.1.5.1. performance technology movement
3.1.1.5.2. rapid prototyping
3.1.1.5.3. internet for distance learning
3.1.1.5.4. knowledge management
3.1.2. DEFINITIONS
3.1.2.1. From 1960s ID as: pedagogical concept
3.1.2.2. Actual challenge: ICT as a part of both
4. The instructional system design
4.1. GENERAL MODEL:
4.1.1. analysis conceptualization development implementation validation
4.2. EXAMPLES
4.2.1. ADDIE analysis design development implementation evaluation
4.2.2. ASSURE analyze state select utilize require evaluate
4.2.3. SOLE student-owned learning-engagement
4.2.4. Rapid prototype
4.3. TENNYSON, R. D.: 4 ISD models driven by the 3 learning theories
4.4. ACTUAL CHALLENGES
4.4.1. ISD according to the constructivism
4.4.1.1. flexible
4.4.1.2. use of ICT tools
4.4.1.3. new role of techno-pedagogical designers
4.4.2. ISD applied to Open Distance Learning (ODL)
4.4.2.1. MISA: method for engineering learning system
4.4.2.2. design for specific needs
4.4.2.3. iterative process
5. Future Challenges
5.1. TECHNO-PEDAGOGICAL DESIGN AS INTEGRATED CONCEPT
5.1.1. Merril,M.D. A task centered instructional strategy
5.1.1.1. 1 task centered 2 activation 3 demonstration 4 application 5 integration
5.1.2. Conole, G. Web 2.0 and Education
5.1.2.1. Learning characteristics:
5.1.2.1.1. - thinking and reflection - experience and activity - evidence and demonstration - communication & interaction
5.1.2.2. New technologies and society
5.1.2.2.1. _ changing learning and teachins paradigms - staff and learner skills set - roles and structures - strategy and policy
5.2. THE NEW ROLE OF TECHNO-PEDAGOGICAL DESIGNERS
5.2.1. expert in pedagogy and ICT
5.2.2. techno-pedagogical skills in teacher
5.2.2.1. meta-teaching
5.2.2.2. technology explosure
5.2.2.3. critical reflections
5.2.3. Univerisities of Canada - Teacher preparation and technology integration
5.2.3.1. University of Calgary
5.2.3.2. University of Lethbridge