The Scarlet Letter
by Rafael Gomez Perez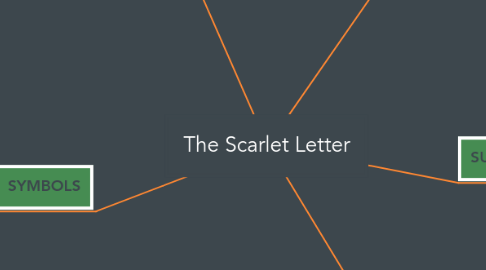 1. SUMMARY
1.1. Set in Puritan Boston in the mid 1600s, The Scarlet Letter explores sin, guilt and the relationship between truth and morality. Forced to wear a scarlet letter A on her gown for the sin of adultery, Hester refuses to feel guilt and ultimately redeems herself through good works. Dimmesdale chooses guilt over public shame.
2. SYMBOLS
2.1. The Scaffold represents the Puritanical desire for public atonement. It gives Dimmesdale a place to confess his sin and embrace his humanity.
2.2. Scarlet Letter The A Hester must wear to show the committed adultery comes to symbolize the word ABLE, for her good deeds.
2.2.1. Sunlight symbolizes the revealing of sin, leading to forgiveness. Shadows symbolize the hiding of sin and suffering without forgiveness.
3. PHRASE
3.1. On the breast of her gown, in fine red cloth, surrounded with an elaborate embroidery and fantastic flourishes of gold thread, appear the letter A. Narrator, chapter 2
4. AUTHOR
4.1. NATHANIEL HAWTHORNE
4.2. 1804-1864 Born in Salem, Massachussetts, he wrote about human fiability: shortcomings in people that lead to evil and, often, self-destruction. The Scarlet Letter highlights his style of dark romanticism.
5. MAIN CHARACTERS
5.1. Hester Prynne commits adultery and has a child.
5.2. Arthur Dimmesdale lacks the courage to reveal he is Hester's lover.
5.3. Roger Chillingsworth Hester's husband, set on revenge.
5.4. Pearl Hester and Dimmesdale's perceptive daughter.